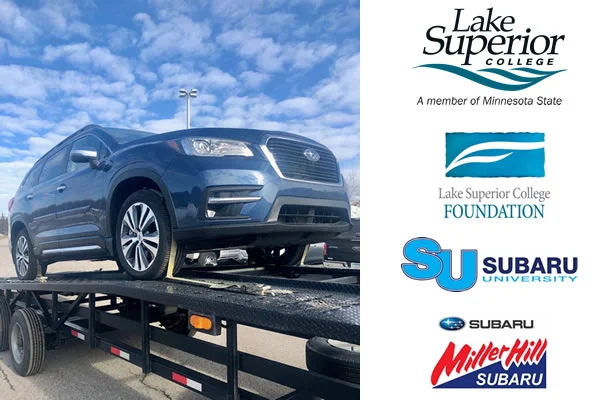 June 23, 2020
Subaru of America and Miller Hill Subaru Provide More Than $100,000 In Donated Vehicles, Components, Software and Equipment to LSC Automotive Services Program
Lake Superior College (LSC) automotive service students have benefited before and during the COVID-19 pandemic from an industry partnership that Lake Superior College and the Lake Superior College Foundation have with Subaru of America and Miller Hill Subaru which includes donated equipment and vehicles, software and technical support, and employment worth a total of over $100,000.00.
This ongoing positive industry partnership between LSC and Subaru of America and Miller Hill Subaru in Duluth was acknowledged today, June 23, when a special thank-you event was held in LSC's automotive labs to recognize Subaru's support of LSC's automotive services technology program.
Subaru of America and Miller Hill Subaru have donated over $100,000 of equipment, including a 2019 Subaru Ascent, numerous transmissions, engines, and diagnostic software through the LSC Foundation during the 2019-2020 academic year. Miller Hill Subaru has also provided ongoing technical support, vehicles, and facilities and equipment access. All donations are made to and administered by the LSC Foundation.
Subaru of America officials who attended the thank-you event at LSC included Miller Hill Subaru Director of Fixed Operations Nick Beck, and Subaru of America Technical Training Education Manger Chris Weigel; Central Region Field Service Engineering Manager William Leigh, and Field Service Engineer Olaf Strand.
"Nick Beck and the Miller Hill Subaru team along with Subaru's Technical Training Education Manager Chris Weigel have gone above and beyond to set the standard for a successful industry-education partnership. What they have done in terms of support is beyond commendable and good for our students and the success of our program," said LSC's Dean of Business and Industry Brad Vieths. "They recognize that supporting the pipeline of future technicians in the transportation industry is essential to our local, regional and national economy. They helped and continue to help our students at a time when many industries are challenged to fully operate and for that we cannot express our gratitude enough."
LSC automotive service students were challenged during this spring semester by the constraints of the COVID-19 pandemic. They are required to perform hands-on automotive diagnostic and repair work to graduate but classroom access on campus was limited because of health and safety concerns.
"We had a student who was able to take his class project, rebuilding a Subaru Boxer engine, up to Miller Hill Subaru where they helped him out," said LSC Automotive Services Technology instructor Dean Magnuson. "They even had a tech come out of retirement to assist the student in the engine reassembly." Over the past 18 months, Magnuson noted that Miller Hill Subaru has loaned new vehicles from their inventory for LSC students to learn on in class, pulling one new model vehicle off the show floor, and has allowed students to use essential manufacturer specific tools, such as check board harnesses, to learn 2019 direct fuel injection systems.
"We appreciate the ongoing industry partnership with Lake Superior College and the LSC Foundation," said Nick Beck, Miller Hill Subaru director of fixed operations. "It's been a good one. The instructors and students in LSC's automotive program have been great to work with on various projects. We depend on LSC to provide us with well-trained and highly skilled automotive service students for our future workforce."
Lake Superior College is a Subaru U School. This affiliation means that by including Subaru University's Web-Based Training (WBT) in existing curriculum, students are assigned and complete Subaru's entry-level training that is required of all Subaru technicians. LSC is allowed access to the Subaru Technical Information System (STIS) and also provided with Subaru's SSM4 diagnostic scan tool software, and Flashwrite2 electronic control unit reprogramming software.
Faculty and students worked closely with Subaru of America's Technical Training Education Manager Chris Weigel. "Chris's support and willingness to make himself available to LSC program instructors and our students via email and personal cell phone is almost unheard of in today's world. He has been a champion of our students and program," said Magnuson. "Chris has participated in Zoom calls this past spring semester to explain to our students how Subaru University works and to assist those students who experienced technical issues. He was the driving force in securing the 2019 Subaru Ascent, the SSM4 diagnostic scan tool software, DST-I Lab Scope, and some of the transmissions as well as providing the school access to all of Subaru's Level 1 and 2 web-based technical training along with unrestricted access to Subaru's proprietary service library."
Miller Hill Subaru continues to both employ and intern LSC students. In fact, most LSC graduates of the automotive services and auto body programs stay and work in the region, greatly contributing to an educated and skilled workforce that is needed as many workers retire.
Lake Superior College's Automotive Service Technology program offers a diploma. Program instructors are ASE Certified Master Automotive Instructors and the automotive program is an ASE Education Foundation Accredited Program. Students who attend are required to complete a curriculum that contains relevant and current content, program outcomes, and tools and equipment.