Congratulations!
You deserve to be very proud of your accomplishments at Lake Superior College. We invite you and your family to celebrate your accomplishments at our annual Commencement Ceremony.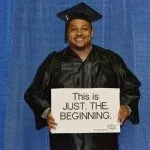 What is the difference between graduation and commencement?
Graduation
Graduation is the completion of all degree requirements as recorded on the official transcript.
Commencement
Commencement is the ceremony that celebrates your accomplishments. Participation in the ceremony does not imply that you have officially graduated.