Log into e-Services
Click Courses & Registration in the left menu.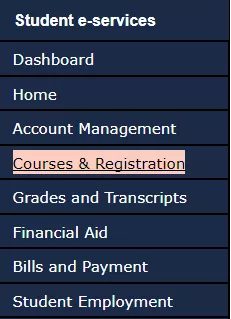 Then click Search for a Course.
On the next page fill out the search fields. Then click the search button.­­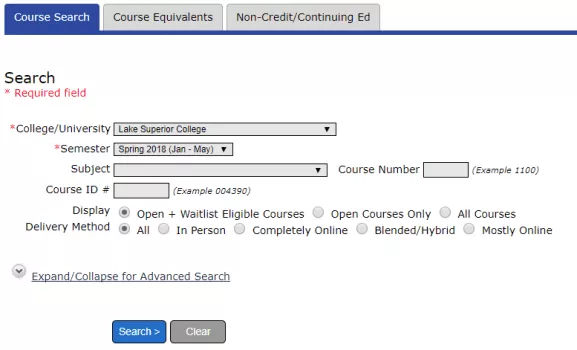 eLearning/Online classes
If you're interested in taking online courses and feel like eLearning is right for you, select from Delivery Methods options. Choose either:
Completely Online  (100% of instruction is online)
Blended/Hybrid (Some instruction is online with regularly scheduled in-person meetings)
Mostly Online (Most of the instruction is online)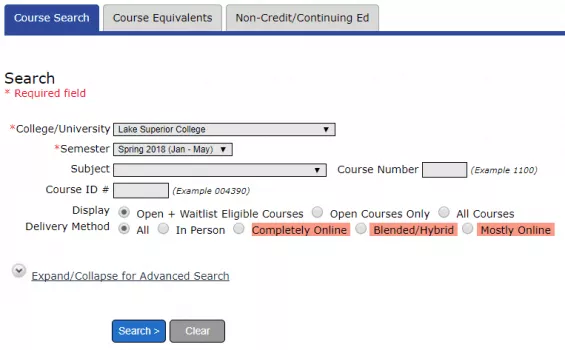 Add a course by clicking the plus sign button under the Add column heading. It will be added to your wish list.

Waitlist
What if the course I want is full?
If a course you want is full, it may have the option for you to add yourself to the waiting list. If it does, you can click the Waitlist button 

 in the row for the course.
What do I do next?
Check your e-services account or student e-mail daily for notification that a seat is open.
If a seat becomes available, you will have 24 hours to register. If you fail to do so, you will be
removed from the waitlist.
Click on Search to add more courses or Continue to Review My Plan to finish.

When finished adding classes, click Continue to Review My Plan to view the courses in your Wish List. Check the box to the left of each class that you want to register for. Then click the blue Select Course(s) to proceed to Register button.
Type your StarID password and click on the Register button.
Pay your tuition under the Bills and Payments link in e-Services or stop by the student payment office.